You are here
Citizenship, Naturalization & Civic Engagement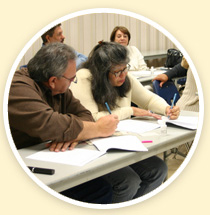 HUF's Civic Engagement program provides high quality citizenship class with a qualified teacher, a curriculum approved and recommended by the USCIS, small classes and a convenient class schedule. The Civic Engagement program assists clients with the preparation for the naturalization process, including one-on-one assistance with the N-400 form (citizenship application), the citizenship interview, legal advice and referrals.

Citizenship Class Calendar
Impact
Served 1,401 clients in 2015
700+ clients passed their Naturalization test and became US Citizens
HUF awarded a two-year grant from the United States Citizenship and Immigration Services (USCIS)
HUF is BIA (Board of Immigration Appeals) Certified by United States Citizenship and Immigration Services (USCIS)
HUF utilizes new technology/tablets to assist clients apply for Naturalization 
To Register for Naturalization Services or Citizenship Classes, call Hispanic Unity at (954) 964-8884 ext. 216
For More information on our BIA-Certified Naturalization Services or to attend one of our Citizenship Classes, please visit our Program Calendar.
Community Partners
Legal Aid Service of Broward County: provides high quality free civil legal advice, representation and education to the disadvantaged of Broward County.  Visit their website for further information: www.legalaid.org/broward/
The New Americans Campaign: More than 80 organizations across the nation have already assisted thousands using these interactive web-based screening and application preparation tools on CitizenshipWorks as a part of the New Americans Campaign, a national nonpartisan effort working to streamline and modernize access to naturalization assistance services.
Univision: In this comprehensive website, you will find basic and important information about the Citizenship process and tips on how to have a successful interview, as well as the latest news about immigration reform.  For more information go to: http://noticias.univision.com/inmigracion
Broward County Public Libraries: Citizenship classes are provided atdifferent Libraries located throughout Broward County. Classes are for free and open to the public all year long except holidays. For more information visit http://www.broward.org/library. Click on our link to get the schedule of HUF Citizenship classes.
Key Program Funding Partners
This program would not be possible without the support and leadership of:
Special Thank You to our other funding partners:
Civic Engagement Client Stories

Important Civic Engagement Links