You are here
The American Dream - Possible at Any Age
"Every time I came to HUF, I had tears in my eyes.
I was so grateful for their support," said Martha. 
"Because of Magaly and Hispanic Unity, we are achieving our dream."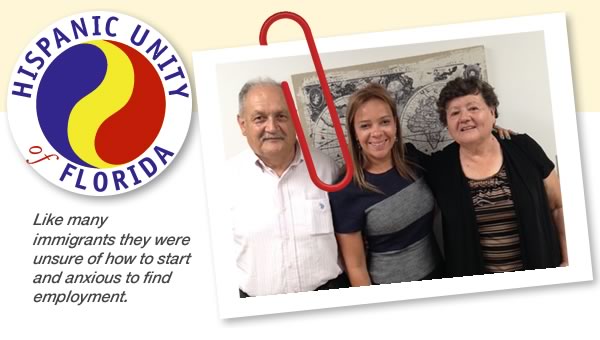 Meet the Abadia's: The American Dream - Possible at Any Age 
More than 30 years.
That's how long it took for Hugo and Martha Abadia to become U.S. Citizens.
To their horror, the family petition his sister filed in 1984 was sitting in a desk and untouched for more than two years. They had no idea. And because of the length of time, they forgot that a family petition was filed.
But on a whim, and three days before their petition was going to be thrown out, Hugo and Martha decided to visit the embassy in Bogota. 
It was then that their prayers were answered and in 1999, Hugo, Martha and their youngest daughter of four traveled to the U.S. in hopes of starting a new life. And they did, setting down roots in California.
Like many immigrants, they were unsure of how to start anew and anxious to find employment.
Hugo, who sold his bus business to pay for the plane tickets and other expenses to come to America, began his U.S. career working for a hotel. Martha, who was a school teacher back in Bogota, still found a way to immerse herself in education – by working for a company that packaged educational materials. She was paid $7.25 an hour.
They were happy to find work so quickly. But then, crisis struck.
September 11, 2001 occurred and the impact was immediate. The hotel where Hugo worked went from full-capacity to only eight room occupancy in one day.
"People were very scared and wanted to leave America after the attacks - they felt the hotel with 22 floors was a target," said Hugo. "Right after, they cut the staff and I was let go - there were no people to serve." 
Hugo had an accident and was placed on disability. Soon after, the family  decided to relocate to Florida. 
It was during their time in Florida that Hugo and Martha decided to pursue their U.S. citizenship dream. They were referred to Hispanic Unity of Florida after visiting the Coral Springs Library, one of HUF's community partners.
After meeting with Hispanic Unity staff and volunteers and studying , daily Hugo and Martha were ready to take their naturalization exam. However, they didn't know how they were going to afford it. 
To their amazement, HUF assisted them in applying for a waiver saving them more than $1,300. 
"Every time I came to HUF, I had tears in my eyes. I was so grateful for their support," said Martha. "Because of Magaly and Hispanic Unity, we are achieving our dream."
Even at the ages of 70, Hugo and Martha passed their naturalization exams and graduated on June 26th.  
---
Thank you to our Civic Engagement Funders:
---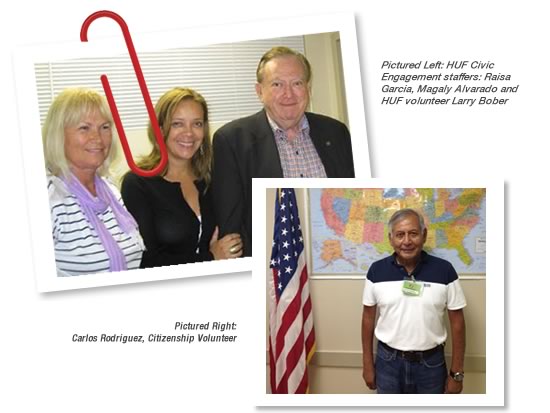 A Special Thank You to Our Elected Officials
A special thank you to Larry Bober who has brought a number of elected officials to meet with HUF's Citizenship class participants. The electeds' participation has deepened our clients' understanding of the civic process and the roles that elected officials play.
---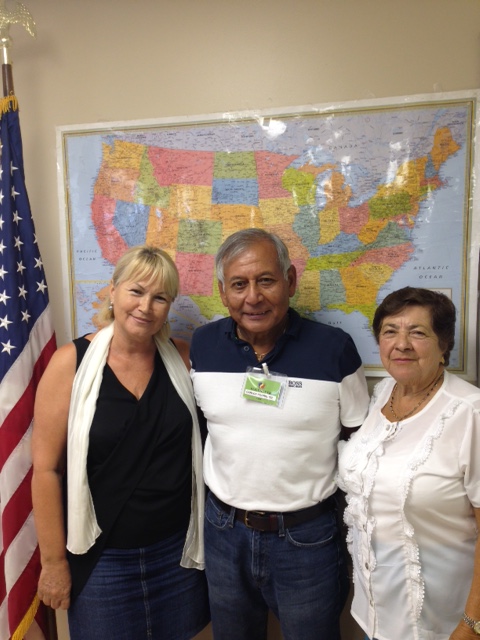 And thank you to our citizenship staff, instructors and other volunteers:
Magaly Alvarado, Citizenship Program Manager
Raisa Garcia, Citizenship Instructor
Elda Ramirez, Volunteer
Carlos Rodriguez, Volunteer
Marilyn Heilbron, AARP Administrative Assistant
Rene Gonzalez, AARP Administrative Assistant
Karen Diaz, Citizenship Volunteer Instructor
Arthur Donovan, Citizenship Volunteer Instructor
Osvaldo Domenech, Citizenship Volunteer Instructor
Diana Ferrer, Citizenship Volunteer Instructor
Juan Rodriguez, Citizenship Volunteer Instructor
Emilio Salcedo, Citizenship Volunteer Instructor
Philippa Sands, Citizenship Volunteer Instructor
Phil SanFillippo, Citizenship Volunteer Instructor 
Pictured: Raisa, Carlos and Elda ("Eldita") 
---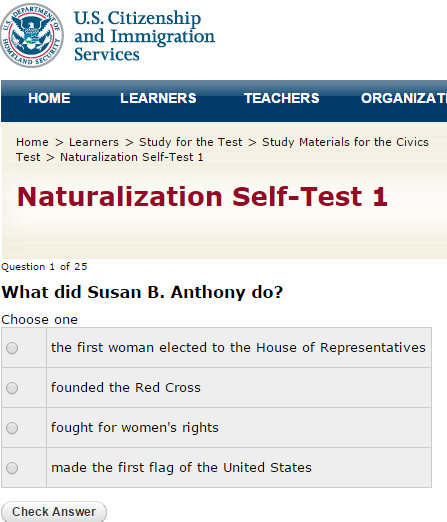 Could you pass the Citizenship Exam?
What did Susan B. Anthony do? What is the name of the national anthem?
Our funder and partner USCIS provides a practice exam to help members of the community on their path to becoming a U.S. Citizen. You too can test your knowledge of U.S. history and government.
To access the practice test, click here.