You are here
Citizenship Classes in MIAMI-DADE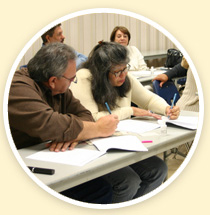 HUF's Civic Engagement program provides high-quality citizenship classes with qualified teachers, a curriculum approved and recommended by the USCIS, small classes and convenient class schedules. The Civic Engagement program assists clients with the preparation for the naturalization process, including one-on-one assistance with the N-400 form (citizenship application), the citizenship interview, legal advice and referrals.
CLASSES NOW IN MIAMI-DADE
In the last decade, HUF has assisted more than 12,000 individuals to become U.S. citizens in South Florida – And we're now expanding our Pathways to Citizenship Program in Miami-Dade to help permanent residents prepare for the citizenship interview! The classes are free and available at several libraries across Miami-Dade.
Click here to find a location near you, or call 954.964.8884 ext. 216 or ext. 266 to register.

For citizenship volunteer opportunities, call (954) 964-8884 ext. 266 or ext. 216 (Training is provided).
Click here to complete the Pre-Registration Form for both Broward and Miami-Dade.
Key Program Partners - Miami-Dade
The Pathways to Citizenship program is made possible with support from our Corporate Founding Partner Citi Community Development and the generosity of the JPMorgan Chase Foundation.
Miami-Dade Citizenship Program partners include Office of New Americans (ONA), Miami-Dade County, Miami-Dade Public Library System and respective library branches across Miami-Dade County. 

Civic Engagement Client Stories